Graves
Build Guide for Wild Rift
Build Graves with confidence with the help of WildRiftFire's build guides. Whether you are completely new to Graves or looking to refine your playstyle, we will help you take your Wild Rift game to the next level. Learn Graves's abilities in detail, the best items to build, which skills to level first, and more.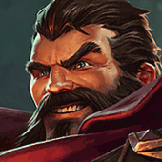 How to play Graves

Graves is an AD auto-attack-focused jungler. He has one of the best early game duels against any other junglers. He does fall off quite a bit when you get to the late game which is why you need to play an aggressive early game jungle path to try and get an advantage early. Graves has a very unique kit different from others. Grave's shotgun only has 2 bullets, which means after you auto-attack twice you need to reload so just make sure you keep that in mind and don't get caught whilst reloading.
Graves Build breakdown

Gluttonous Greaves - Stasis
Graves does really well with attack damage and attack speed items. Youmuu's Ghostblade is a great item for Graves which allows him to move around the map a lot quicker. He is at his strongest during the early game so it's really important to try and get them early ganks off and get an early lead. After getting ghost blade, Phantom Dancer is a nice attack speed item that also has a very good passive to help keep Graves alive when he's going in to try and auto-attack the enemy champions.
Onto the runes, we have:
Graves auto-attacks are very short-range and wants to get in and amongst the team fights. Even though Graves has only 2 bullets you have multiple abilities that can help get the stacks for Conqueror fast.
This helps out Graves in the early game get that extra bit of damage when clearing the jungle and getting them early ganks off.
With Graves, you will be in a lot of fights and get plenty of damage on the enemies especially if you play aggressively early on. This allows Graves to get a bit more health with each takedown to make him that little bit extra tanky.
The go-to rune for junglers in Wild Rift! Allows you to deal 10% bonus true damage to epic monsters and turrets!
Jungle Path

With Graves, he has a very fast early jungle clear. This means that you can work your way around the jungle really fast and be aggressive when contesting the scuttle crabs in the rivers when they spawn. It is best to start at Red Brambleback as you don't really struggle on mana and the extra damage you get can help clear the jungle faster.
This is what the jungle patch would look like:
Red Brambleback
Raptors
Blue Sentinel
Scuttle Crab 1 (In river)
Scuttle Crab 2 (Opposite river)
Gank or continue to farm jungle.
Below is a beginner's guide for jungle in Wild Rift. It goes in-depth about every jungle camp. Epic monsters and more!:
Late Game

In the late game, Graves struggles a lot. The best thing you can do is group with your team and try to pick off the enemies. Your main objective as a jungler is to keep track of when Dragon's, Rift Herald, and Baron spawn. Taking these epic monsters will give you and your team an advantage in the game. When in a team fight try your best not to get caught out and try to keep auto-attacking and using your abilities to deal damage.
Conclusion

Overall if you like the sound of an early aggressive jungler that can make an impact then Graves is the perfect champion for you. Try to finish the game as quickly as possible because the longer the game goes the harder it gets for Graves to carry the game.
Thank you for reading this guide! Feel free to follow me and ask any questions on:
Good luck on the rift summoners!