Dr. Mundo
Build Guide for Wild Rift
Build Dr. Mundo with confidence with the help of WildRiftFire's build guides. Whether you are completely new to Dr. Mundo or looking to refine your playstyle, we will help you take your Wild Rift game to the next level. Learn Dr. Mundo's abilities in detail, the best items to build, which skills to level first, and more.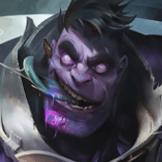 Dr. Mundo
The Madman of Zaun
How to play Dr Mundo

Dr Mundo is a tank jungler that loves to get in the enemies faces and take a lot of damage. He has one of the fastest jungle clears which makes him really strong at all stages of the game. Dr Mundo doesn't have the best ganking potential with his Infected Cleaver (1st Ability) being the only crowd control he has in his kit so most of the time you will find yourself farming the jungle to get your core items. One important thing to note is to make sure you do not have your Burning Agony (2nd Ability) activated when you have no enemies nearby. This ability takes away your health over time so if you are wasting it you will lose a lot of health even before getting into a team fight or clearing your jungle.
Dr Mundo Build Breakdown

Mercury's Treads - Gargoyle
Dr Mundo is known as a solo front-line tank that can survive a lot of damage and that reflects in his build. Sunfire Aegis is a perfect first item for Mundo. It gives you a bunch of health that you need and does damage to nearby enemy champions and/or monsters. Most of the time Mundo will be in the face of the enemy using Burning Agony (2nd Ability) to deal area of effect damage around him. Spirit Visage is also a crucial item for Dr Mundo! Not only does it give him more health and health regeneration but it increases all healing and regen on yourself. This works really well with Dr Mundo's ultimate Sadism, this ability heals Dr Mundo over time.
For runes we have:
With Mundo you will be walking around a lot to get stacks for this rune. When at full stacks Mundo can auto-attack and get a bit more movement speed and healing which can help him clearing the jungle and in teamfights.
Infected Cleaver has a really low cooldown and is your only ability that immobilizes your enemies however you will be throwing it a lot so you can your team can do more damage to that target.
With Dr Mundo, you will be in a lot of fights and attacking multiple enemies. This allows Dr Mundo to get even more health with each takedown to make him even tankier.
This rune allows you to get even more movement speed when near allies which is really important when chasing down enemies with Mundo.
Jungle Path

With Dr Mundo, he has a very fast early jungle clear. This means that you can work your way around the jungle really fast and be aggressive when contesting the scuttle crabs in the rivers. It is best to start at Red Brambleback as you don't have mana and you don't lose a lot of health when jungle clearing.
This is what the jungle path would look like:
Red Brambleback
Raptors
Blue Sentinel
Scuttle Crab 1 (In river)
Scuttle Crab 2 (Opposite river)
Gank or continue to farm jungle.
Below is a beginner's guide for the jungle in Wild Rift. It goes in-depth about every jungle camp. Epic monsters and more!:
Late Game

Dr Mundo is a great team fight champion in the late game. You want to stay with your team at all times and try not to get caught out by yourself. Your main job as a jungler is to keep track of when Dragon's, Rift Herald, and Baron spawn. Taking these epic monsters will give you and your team an advantage in the game. When a team fight happens you want to make sure you are at the front protecting your team. Dr Mundo is a tank that has a lot of health and a lot of resistances to survive a long time against the enemy team.

Conclusion

Overall Dr Mundo has a very easy kit that is very good for people just starting to play Wild Rift. If you want to be a tank and be able to run around the enemy team and take little to no damage then Dr Mundo is the right champion for you.
Thank you for reading this guide! Feel free to follow me and ask any questions on:
Good luck on the rift summoners!