Darius
Build Guide for Wild Rift
Build Darius with confidence with the help of WildRiftFire's build guides. Whether you are completely new to Darius or looking to refine your playstyle, we will help you take your Wild Rift game to the next level. Learn Darius's abilities in detail, the best items to build, which skills to level first, and more.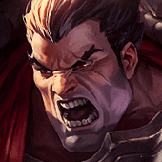 How to play Darius

Darius is a top-lane fighter. He is great at all stages of the game, but the later the game goes the better it gets for Darius as he can do more damage and have a lot more health to be a front line tank. He also has insane 1 vs 1 potential being able to pull people in with Apprehend (3rd Ability) and stacking up Hemorrhage (Passive) to deal a lot of damage.

Darius Build Breakdown

Plated Steelcaps - Teleport
Darius uses a mixture of both damage and tank items that work well with his kit. Trinity Force is the perfect item and a must-buy on Darius. This item gives him damage and tank stats that he needs later on in the game. Darius works really well with the extra movement speed you get from the rage passive, allowing him to get closer to the enemy and be able to keep up when they try to run away from him. Sterak's Gage is a great example of a tank item that works well with Darius. It gives him some health and when he is low on health he gets a shield to keep him alive longer.
For runes, we have the following:
As a fighter, Darius will be in fights a lot attacking and using his abilities to an enemy champion. He can get stacks really quickly so he is able to do more damage.
A very unique rune that works great with Darius! You will be in fights a lot so being able to heal a bit of health per takedown is nice and doing more damage to champions on low health works well with Noxian Guillotine (Ultimate) to deal more damage for the resets.
With Darius, you will be in a lot of fights and hitting a lot of enemies. This allows Darius to get a bit more health with each unique takedown to make him that little bit tankier.
A great rune for if you get low in the laning phase and need that extra bit of healing and get free money.
Early Game

Darius does alright in the early game. You have to find the right opportunity to go in and fight. Make sure you take full advantage of your Decimate (1st Ability) making sure you hit champions with the outer ring to heal and apply a stack of your passive. If you're able to get stacks on the enemy champion early you can use your Apprehend (3rd Ability) to pull them in to help get the 5 stacks. Once you reach 5 stacks Darius will get increased attack damage which will help win you battles in the early game.
Late Game

With Darius, once you get to the late game and you have your core items the best thing you can do as Darius is teamfight with your team. Ina team fight your main goal is to get on top of the enemy backline! Use your Apprehend (3rd Ability) to hook the enemy carries, chase them down with your abilities and dunk them with Noaxian Guillotine (Ultimate). One thing to note with the Ultimate is if it gets the killing blow an enemy champion the cooldown will reset! Meaning if you time it correctly you can use your ultimate multiple times during a teamfight which makes it an amazing ability.
Conclusion

Darius is a great and fun champion to play. He can win at all stages of the game. If you are looking at a tanky champion that can do a lot of damage and can chase down the enemies then Darius is the perfect champion for you.
Thank you for reading this guide! Feel free to follow me and ask any questions on:
Good luck on the rift summoners!