Diana
Build Guide for Wild Rift
Build Diana with confidence with the help of WildRiftFire's build guides. Whether you are completely new to Diana or looking to refine your playstyle, we will help you take your Wild Rift game to the next level. Learn Diana's abilities in detail, the best items to build, which skills to level first, and more.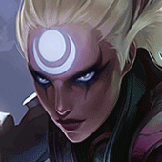 Diana
The Scorn of the Moon
How to play Diana

Diana is a mid-lane magic damage assassin. Diana is a melee champion and can struggle a lot in the early game (especially vs ranged champions) when trying to walk up to last hit minions. Once you hit level 5 and get Moonfall (Ultimate) you can look to roam around the map with her aggressive playstyle. Lunar Rush (3rd Ability) is a dash ability and can be used to get onto the enemy champions and then you can use your ultimate to deal a massive amount of damage.
Diana Build Breakdown

Boots of Swiftness - Stasis
Diana builds ability power items to help with her damage from her abilities and passive. It's important to build Rod Of Ages as your first item. Rod Of Ages stacks over time giving you more health, mana, and ability power every 30 seconds up to 10 times. This means that if you build this item later on it won't have the same effect and you will need to wait for it to stack. Nashor's Tooth is a very unique item for Diana. This item allows Diana to auto-attack faster which helps with Moonsilver Blade (Passive) to deal more damage
For runes we have the following:
Diana likes to get in and amongst the enemy team using her abilities and auto-attacks a lot. This allows the rune to stack quickly and once you hit an enemy with 5 abilities or auto attacks you deal more damage.
Good way to get some extra ability power that can help at all stages of the game, especially in the early game because this is where Diana can struggle.
With Diana you will be diving into the enemy team a lot dealing damage to multiple enemies. This rune allows her to get some extra health when you get unique takedowns.
A great rune for if you get low in the laning phase and need that extra bit of healing or mana and some free money.
Early Game

Diana struggles a lot in the early game as a melee champion. Most of the time you want to stay back and use her Crescent Strike (1st Ability) to last hit minions or poke down the enemy. Once you hit level 3 you will get Lunar Rush (3rd Ability) which will allow you to dash to a target. Diana's 3rd ability combos really well with her 1st ability. If you hit her Crescent Strike on an enemy champion and apply Moonlight you can dash in with her Lunar Rush. When you do this the spell will not go on cooldown as it will consume Moonlight from the 1st Ability. This means you can dash into the enemy and trade a bit of damage, then after you can dash to a minion to escape.
Late Game

When Diana reaches the mid and late game and she gets a few items this is where Diana can be very useful. When you are grouped with your team and about to have a team fight the best thing you want to do is get to the enemy backline where you can kill the enemies carries. You have a lot of mobility if you combo your 1st and 3rd ability. Diana's Moonfall (Ultimate) is a great way of dealing massive amount of area of effect damage in team fights. One thing to note is that you can hold down the ultimate button, this will increase the area and damage of the ability.

Conclusion

Diana has a very unique playstyle. You have to play safely in the early game and farm up until you have enough confidence to go into team tights. With Diana, it's always about learning when is the right time to go in. When you do go in you can get a huge team fight ultimate to win the game!
Thank you for reading this guide! Feel free to follow me and ask any questions on:
Good luck on the rift summoners!