Evelynn
Build Guide for Wild Rift
Build Evelynn with confidence with the help of WildRiftFire's build guides. Whether you are completely new to Evelynn or looking to refine your playstyle, we will help you take your Wild Rift game to the next level. Learn Evelynn's abilities in detail, the best items to build, which skills to level first, and more.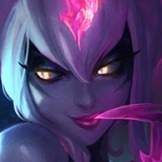 How to play Evelynn

Evelynn is an assassin jungler that uses her invisibility and abilities to assassinate the enemy champions. Once Evelynn fully clears the jungle she will get Level 5 which means she will be invisible when out of combat so she can sneak around the map and gank lanes to get your team an advantage. Evelynn is not the best in team fights but you can still stick near your teammates, just make sure you don't go too close to the enemies or they will be able to see you. 
Evelynn Build Breakdown

Ionian Boots of Lucidity - Protobelt
Evelynn is known for doing a lot of magic damage from her abilities and this reflects on the build as well. Infinity Orb is an amazing item for Evelynn. You will be using your Hate Spikes (1st Ability) a lot. This ability has a low cooldown and can be activated twice once available. These 2 work really well together because you can crit with the hate spikes when the enemy is below 35% health so the ability will do more damage. Lich Bane is a unique item with Evelynn as you can auto-attack when using your 1st ability so you can get extra on hit damage when you hit a spell.
For runes we have the following:
As mentioned above you can use your Hate Spikes (1st Ability) a lot and every time they hit it will count as a stack for conqueror so you can get 5 stacks for the extra damage really easily.
A good way to get that extra bit of magic damage and can help a lot when clearing the jungle and trying to gank early on.
You will be assassinating enemies a lot and getting a lot of kills and assists. The extra health you get will help a bit for survivability.
Movement speed is super important with Evelynn. You want to be able to move around the map as quickly as possible to get them sneaky kills when she's invisible.
Jungle Path

With Evelynn, she doesn't have the best 1 vs 1 potential vs other junglers early on. This means that most of the time you want to go for a full clear in the jungle which means you work your way through your jungle and kill every camp. When you finish killing every jungle camp you will get Level 5 and be able to turn invisible as soon as possible. It's ideal to start with Blue Sentinel first to help with mana and health early with Evelynn.
This is what the jungle path would look like:
Blue Sentinel 
Gromp
Wolves
Raptors
Red Brambleback
Krugs
Below is a beginner's guide for jungle in Wild Rift. It goes in-depth about every jungle camp. Epic monsters and more!:
Late Game

With Evelynn, you want to take advantage of your invisibility. Roam around the map solo without your team and try and get them solo kills on the enemy carries. This will give your team a huge advantage when it comes to pushing or taking objectives. When playing jungle, your main job is to keep track of when Dragon's, Rift Herald, and Baron spawn. Taking these epic monsters will give you and your team an advantage in the game.
Conclusion

Evelynn is one of the champions that everyone hates to play against. However, when playing her she is super fun running around the map knowing that no one can see you so you can surprise your enemy and get them cheeky kills.
Thank you for reading this guide! Feel free to follow me and ask any questions on:
Good luck on the rift summoners!