Akali
Build Guide for Wild Rift
Build Akali with confidence with the help of WildRiftFire's build guides. Whether you are completely new to Akali or looking to refine your playstyle, we will help you take your Wild Rift game to the next level. Learn Akali's abilities in detail, the best items to build, which skills to level first, and more.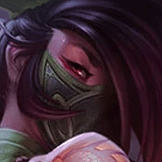 How to play Akali

Akali is a top or mid-lane magic damage assassin. In this guide, we will be taking a look at Akali in the top lane. Akali is a weak champion and can struggle vs ranged champions before hitting level 5. Once she gets to level 5, you have access to Perfect Execution (Ultimate) which is her main source of damage, this is when you can start to utilize her aggressive play style and try to get an early advantage by either trying to get a solo kill in the top lane or group early with your team around objectives and focus on the squishy targets in the backline.
Akali build breakdown

Mercury's Treads - Stasis
Akali's main source of damage comes from her abilities, this means she works great with ability power items. Liandry's Torment is a great first item for Akali, she will be in combat a lot jumping in and out of different enemies, and with Liandry's you will gain 2% damage each second she is in combat vs enemy champions. After building Liandry's Torment, you can build more ability power to make Akali's abilities stronger.
For runes we have:
Akali can get 5 stacks of the rune really easily with her abilities and auto-attacks because of her short cooldowns and increased attack range from Assassin's Mark (Passive).
A nice way to get that extra little bit of ability power to help out Akali at all stages of the game.
With Akali, you will be in a lot of fights dashing in and out and hitting a lot of enemies. This rune allows Akali to get some extra health when she gets unique takedowns.
A great rune for if Akali gets low on health in the laning phase and needs that extra bit of healing and she gets free money.
Early Game

Akali can be pretty weak in the early game. Before level 5 the best thing you can do is try and hit Five Point Strike (1st Ability) on the enemy champion, this activates Assassin Mark (Passive) which means you can exit the circle so your next auto attack has extra range and damage. If you get into trouble early when playing Akali you can use Twilight Shroud (2nd ability), this allows her to turn invisible whilst inside the shadow. Akali can also use Shuriken Flip (3rd ability) to get some distance between you and the enemies.

Late Game

When Akali reaches the mid/late game and gets a few items this is where she can really become a strong champion. When she is grouped with her team and about to have a team fight the best thing she wants to do is get onto the enemy backline where she can kill the carries. Akali has so much mobility and survivability with her abilities and stasis (boots upgrade) also helps with that. When playing Akali you also have great 1 vs 1 potential against most champions. This can give your team a big advantage if you are able to get a kill before the team fight starts.
Conclusion

Overall Akali is a champion that has a very aggressive playstyle! If you like jumping into people's faces and killing them whilst staying alive for a long time then she is the right champion for you! She has a very high skill gap which means it might take a few games to understand how to play her, but if you can master her you can climb the ranks and reach the very top!
Thank you for reading this guide! Feel free to follow me and ask any questions on:
Good luck on the rift summoners!