Corki
Build Guide for Wild Rift
Build Corki with confidence with the help of WildRiftFire's build guides. Whether you are completely new to Corki or looking to refine your playstyle, we will help you take your Wild Rift game to the next level. Learn Corki's abilities in detail, the best items to build, which skills to level first, and more.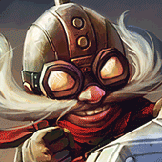 Corki
The Daring Bombardier
How to play Corki

Corki is a mixed damage mid-lane champion. Corki struggles in the early game, he uses his spells early on to farm up and poke down the enemy before getting your 3 core items. Once you get your 3 core items you become a late-game carry. With Corki, make sure you keep an eye on when your Package (Passive) is up and available in base. Make sure when it is available that you go back to base and pick it up. This grants Corki bonus movement speed and an empowered cast of Valkyrie (2nd Ability).
Corki Build Breakdown

Gluttonous Greaves - Stasis
Corki has a great mix of ability power and attack damage in his kit making him a great champion and a very hard champion to itemize against. Trinity Force is the go-to item for Corki. He works really well with the spell blade passive as he will be spamming abilities a lot especially Missle Barrage (Ultimate). Trinity force also gives Corki attack damage, attack speed, and ability haste which is great for him. Infinity Edge, Statik Shiv, and Rapid Fire Cannon give Corki 75% critical strike chance and enough damage for him to kill enemies off in the late game.
For runes:
With Corki you will be auto-attacking and spamming your spells a lot and most of the time they will be hitting enemies. This allows Corki to stack up Conquerer really fast to get that extra damage.
Helps Corki in the early game as this where he struggles the most. Brutal allows Corki to last hit minions easier and trade better with the enemy champion.
Corki will be involved in a lot of team fights especially when he gets his package. Hunter Titan helps Corki get that little bit of health per unique takedown to help him survive a bit more.
A great rune for if you get low in the laning phase and need that extra bit of healing and get free money.
Early Game

In the laning phase, Corki is not the strongest, however, he is a super safe champion. You can use Valkyrie (2nd Ability) to get out of a bad situation and go back to your tower. You also have Phosphorus Bomb (1st Ability) to poke out the enemies and to last hit minions at range. At 4 minutes in the game, you will hear a sound! This will be your Package (Passive), make sure you go back to base and pick it up. This will give you a chance to roam and get some kills.
Late Game

If Corki has reached this point of the game, you have your core items and a few kills under your belt, Corki really becomes a late-game carry. Make sure you always listen out and keep track of when your Package (Passive) is up and available as this will help a lot. You want to make sure you are always grouped with your team, most of the time you are the main damage output, so if you get caught by yourself and die then your team is in trouble.
Conclusion

Corki is a great starter champion if you want to play in the mid lane. He is a super safe champion to play especially in the laning phase and you can carry the game the later it goes on.
Thank you for reading this guide! Feel free to follow me and ask any questions on:
Good luck on the rift summoners!