Ashe
Build Guide for Wild Rift
Build Ashe with confidence with the help of WildRiftFire's build guides. Whether you are completely new to Ashe or looking to refine your playstyle, we will help you take your Wild Rift game to the next level. Learn Ashe's abilities in detail, the best items to build, which skills to level first, and more.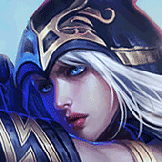 How to play Ashe

Ashe is a dragon lane champion that focuses on attack damage to kill the enemy team. Ashe does not have a lot of damage compared to the other AD carries however, Ashe has a unique playstyle that is great for team fights. She uses her wide variety of crowd control with her slow's and stuns from her abilities. When she reaches level 5, Ashe can use Enchanted Crystal Arrow (Ultimate) to pick off the enemies and then follow that up with her Volley (2nd Ability), Ranger's Focus (1st Ability), and Frost Shot (Passive) with auto attacks to slow down the enemies.
Ashe Build Breakdown

Gluttonous Greaves - Stasis
Ashe does really well when building attack damage items and also benefits a lot from attack speed. Blade Of The Ruined King is a perfect 1st item for Ashe. It gives her attack damage and attack speed that is needed but also has a great passive. The passive is when you hit an enemy champion with 3 basic attacks or abilities, Ashe steals movement speed from that champion. So on top of Ashe's abilities, you will also have even more slows to help chase down the enemies. Runaan's Hurricane is another core item for Ashe. When you auto-attack Ashe strikes 2 additional enemies that are nearby. This applies the on-hit effect from the passive, so when the auto attacks spread you can slow down multiple targets at once.
Onto the runes, we have:
With the high attack speed and easy spells you can hit with Ashe, you can get 5 stacks of the rune really easily. This allows Ashe to deal even more damage.
This rune is insane! Ashe's whole kit is based around immobilizing enemies so to be able to deal 5% more damage is a huge bonus.
You will always find yourself either getting a lot of kills or assists if you stay back and hit the enemy champion. This works really well with this rune. Ashe will gain health each time you get a unique takedown (5 max)
A great rune for if Ashe gets low in the laning phase and needs that extra bit of healing and also get some free money.
Early Game

Ashe is not the best champion in the early game. Ashe can use Volley (2nd Ability) to poke out the enemy bot lane and last hit some minions. This will help as the enemy bot lane won't push up too much to try and kill you. When using Ashe's Hawkshot is it important to note that you can reactivate the ability to show enemies in an area for a period of time. In the early game, it's best to use Hawkshot in the enemy jungle so you can try and spot out where the jungler is to see if you are in any danger of being ganked. When Ashe hits level 5 you can look to engage with her Enchanted Crystal Arrow (Ultimate) and kill the enemy bot lane with your support.
Late Game

Once Ashe reaches the late game and has her core items this is where she can look to use her crowd control to help your team win the game. It's always best as an AD Carry to stay grouped with your team. You want to stay as far back from the enemies as possible to allow your tanks to go in front of you to take all the damage. Most of the time you are the main damage output, so if you are caught by yourself and die then your team is in big trouble, so make sure you stay safe at all times.
Conclusion

Ashe is a great starter champion if you want to give Dragon Lane a try! Her abilities are really simple and she has a great play style for beginners that are just starting to play Wild Rift.
Thank you for reading this guide! Feel free to follow me and ask any questions on:
Good luck on the rift summoners!