Braum
Build Guide for Wild Rift
Build Braum with confidence with the help of WildRiftFire's build guides. Whether you are completely new to Braum or looking to refine your playstyle, we will help you take your Wild Rift game to the next level. Learn Braum's abilities in detail, the best items to build, which skills to level first, and more.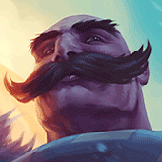 Braum
the Heart of the Freljord
How to play Braum

Braum is a tank support champion. He excels at staying back and protecting the team with his heavy crowd control, for example, Unbreakable (3rd ability) which blocks all incoming abilities and auto-attacks and Stand Behind Me (2nd ability) that gives an ally bonus resistances. Braum is really good at all stages of the game because of his defensive abilities and safe kit which allows him to survive and help the team.
Braum Build Breakdown

Plated Steelcaps - Redeeming
Braum does really well with tank and support items that help keep him and his team alive. Zeke's Convergence is a great first item. It gives Braum armor and magic resistance to keep him alive longer, and most of the time you will be near an ally when using your ultimate to keep them alive and this will proc the area of effect slow around Braum to help out even more. Protector's Vow is another great item that will give Braum and his closest ally a shield whenever one of you takes damage.
For runes we have:
Very unique rune for supports but it does really well with Braum! Braum has a lot of slow's and immobilizing abilities that can help your team heal over time.
Same as Font of Life. It's really easy to immobilize the enemy especially with Concussive Blows (passive) and if the enemy does get immobilized they will take extra damage from you and your team.
As a support champion Braum's main job is to keep his team alive and loyalty is a great tune that can help! It gives Braum armor and magic resistance and also does the same to his nearest ally.
This rune gives Braum more movement speed when near allies which is important when moving around the map and being able to get close to your team to help them.
Early Game

In the early game, you want to use Winter's Bite (1st Ability) to poke down the enemies or to try and engage. Hitting Braum's 1st ability will inflict the enemy with 1 stack of Concussive Blows (Passive) and slow the enemy so you can walk up and keep on hitting them to try and get the stun off. Make sure you are always keeping your AD Carry safe. Use Unbreakable (3rd Ability) to block any incoming damage and abilites and Stand Behind Me (2nd Ability) to jump to your AD Carry to give him/her resistances.
Late Game

It is really important when playing Braum that you stay with your team and help them during team fights. Prioritize keeping your carries alive and protecting them against the enemy team using everything possible to keep them alive. The AD Carry in your team is one of the main damage sources and keeping him/her alive is really important! Another important note is that your passive can be applied to multiple enemies at once. So if you have already applied a stack of your passive to one enemy you can move onto the next.
Conclusion

Braum is a very safe and beginner-friendly champion to play! If you are looking at playing support, and you want a champion that is good at protecting your team and being a big shield Braum is the right champion for you!
Thank you for reading this guide! Feel free to follow me and ask any questions on:
Good luck on the rift summoners!