Camille
Build Guide for Wild Rift
Build Camille with confidence with the help of WildRiftFire's build guides. Whether you are completely new to Camille or looking to refine your playstyle, we will help you take your Wild Rift game to the next level. Learn Camille's abilities in detail, the best items to build, which skills to level first, and more.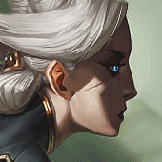 How to play Camille

Camille is a top lane fighter. She is not the best in the early game but once you reach level 5 and have access to Hextech Ultimatum (Ultimate) you can lock down any champion on the enemy team to try and get a solo kill or use it in team fights to lock down a high-value target. Camille also has insane 1 vs 1 potential and has a great escape tool with Hookshot which makes her a perfect split push champion.
Camille Build Breakdown

Plated Steelcaps - Teleport
Camille uses a mixture of both damage and tank items that work well to help with her damage and keep her alive for longer. Trinity Force is the perfect item and a must-buy on Camille. This item gives her some damage and tank stats. Trinity force's passive effects also work really well with Camille's abilities. Precision Protocol (1st Ability) is a great way to proc the spell blade passive. Camille also works really well with the extra movement speed you get from the rage passive. Sterak's Gage is a great example of a tank item that works well with Camille. It gives her some health and when she gets low on health she gets a shield to keep her alive longer.
For runes, we have the following:
Camille is a fighter so she wants to get in the enemies face and attack constantly. This means she can get the 5 stacks pretty fast with her abilities, which means she can deal more damage.
This helps out Camille in the early game get that extra bit of damage when last hitting minions and trading vs the enemy champion.
With Camille, you will be in a lot of fights and damaging a lot of enemies. When you get takedown's Camille will get a bit more healthy with each one.
A great rune for if Camille gets low in the laning phase and need that extra bit of healing and some free money.
Early Game

Camille struggles a bit in the early game. It's best to play passive in the early game unless you have a great opportunity to go in if the enemy makes a mistake. In the laning phase, you want to use Tactical Sweep (2nd Ability) to try and poke the enemy at range. Make sure that you are hitting the ability on the enemy with the outer half of the ability. Hitting enemies in the outer half are slowed and take extra damage, whilst also healing Camille.
Late Game

Once you get to the late game and Camille has her core items this is where you can become unstoppable. At this stage of the game, the best thing you can do is split-push, this means going to one of the side lanes (top or bottom) and pushing the minions. Camille's 1 vs 1 potential is really good because of her kit and she pushes towers really fast. Make sure you keep an eye on your team and use Teleport (Boots enchant) to group with your team if they look like they need help. When in a team fight with your team your main goal is to get on top of the enemy backline! Use your Hextech Ultimatum (Ultimate) to lock down one of the enemies carries so your team can follow up and help kill them.
Conclusion

Overall Camille has a very unique and fun playstyle that a lot of people will enjoy. She is one of the champions that can carry the game off her own back. As long as you can learn and understand how to utilize her kit she will be a great pickup for anyone.
Thank you for reading this guide! Feel free to follow me and ask any questions on:
Good luck on the rift summoners!