Aurelion Sol
Build Guide for Wild Rift
Build Aurelion Sol with confidence with the help of WildRiftFire's build guides. Whether you are completely new to Aurelion Sol or looking to refine your playstyle, we will help you take your Wild Rift game to the next level. Learn Aurelion Sol's abilities in detail, the best items to build, which skills to level first, and more.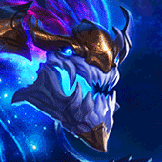 Aurelion Sol
The Star Forger
How to play Aurelion Sol

Aurelion Sol is a mid lane mage. In the laning phase, he is a bit of a weak champion before you hit level 3. Once Aurelion Sol hits level 3 and beyond you can use his insane roam potential with Comet of Legen (3rd Ability) to get advantages in other lanes. One important thing to note is when you roam with Aurelion Sol's 3rd ability you can combo that with your Starsurge (1st Ability). The further you travel with Aurelion Sol's 1st ability the bigger the area will get so it will be harder for the enemies to dodge. Once you get to mid/late game and you have your 3 core items with Aurelion Sol, he really comes online and can deal a lot of damage and have a lot of slows to help out your team.
Aurelion Sol Build Breakdown

Boots of Swiftness - Stasis
Aurelion Sol's main source of damage is from his star's Center of The Universe (Passive). These stars increase in speed and damage with Celestial Expansion (2nd Ability). This ability deals more damage with ability power items. Liandry's Torment is a perfect item for Aurelion Sol. Every time you hit an enemy champion with Aurelion Sol's starts it will stack up the passive from Liandry's Torment going more damage over time. This combination gets even stronger after you buy Rylai's Crystal Scepter. This item makes all the stars you hit slow the enemies. This works in combination with Liandry's passive so you can deal double the damage.
For runes we have:
With Aurelion Sol each time you hit a star on an enemy you get a stack on the rune. Meaning it's really easy to get the maximum stacks and deal more damage.
A nice way to get that extra little bit of ability power to help at all stages of the game.
At times Aurelion Sol will be low on mana as you won't be building any items that give you mana. So regeneration is a nice rune to help with getting a bit of extra mana that can help especially during the early game.
A great rune if Aurelion Sol gets low in the laning phase and needs that extra bit of healing and you get free money.
Early game

Aurelion Sol is not the strongest champion early on. Your main goal before you reach level 3 is to push the lane as fast as you can with Celestial Expansion (2nd Ability). This means that you can stay away from any early trades that you do not want vs the enemy. After Aurelion Sol reaches level 3 you can start looking for roams around the map however you might want to wait until you reach level 5 to get your Voice of Light (Ultimate) for that extra damage and crowd control when trying to kill the enemies.
Late Game

With Aurelion Sol once you reach the mid and late game and you have your 3 core items this is really where he can start to carry the game. You always want to keep your eyes peeled top and bottom lane for roaming potential to help your team out as you are a lot faster at roaming compared to other mid laners. Most of the time Auerlion Sol wants to stay grouped with his team. When Aurelion Sol groups with his team and about to have a team fight, the best thing for you to do is stay back and use your stars to your advantage. You don't want to get too close to the enemy team or your stars won't do as much damage or no damage at all.
Conclusion

Overall Aurelion Sol is all about roaming and getting advantages elsewhere on the map. If you want to fly around the map and get some kills to help your team then Aurelion Sol is the perfect champion for you!
Thank you for reading this guide! Feel free to follow me and ask any questions on:
Good luck on the rift summoners!