Amumu
Build Guide for Wild Rift
Build Amumu with confidence with the help of WildRiftFire's build guides. Whether you are completely new to Amumu or looking to refine your playstyle, we will help you take your Wild Rift game to the next level. Learn Amumu's abilities in detail, the best items to build, which skills to level first, and more.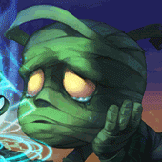 How to play Amumu

Amumu is a tank jungler. He is not the best champion before level 5, but as soon as you get Curse Of The Sad Mummy (Ultimate) he becomes a team fight god! In the early game, Amumu wants to farm early and get level 5 so he can gank any lane and either Flash and Ultimate or try and land your Bandage Toss (1st Ability) and follow that up with the Ultimate. This allows your teammate/s to follow up and get an easy kill. One important thing to note with Amumu is that Despair (2nd Ability) is a toggle ability. This means you need to make sure you turn it off if there is no one nearby or you will waste a lot of mana! 

Amumu Build Breakdown

Mercury's Treads - Gargoyle
Amumu is known as a big team fight tank that can change a fight in an instance with his ultimate and this reflects on the build as well. Liandry's Torment is the only damage item in this build but works really well with Amumu's abilities especially Despair (2nd Ability). When you activate despair Amumu has an area of effect puddle around him which does damage over time to enemies. This works with the increased damage of Liandry's every second. This allows you to clear your jungle camps and do objectives quicker!
For runes we have:
Amumu's 1st ability (Bandage Toss) and ultimate (Curse of the Sad Mummy) can immobilize enemies. This means that he will get the extra resistances to stay alive longer and allow him to stay next to the enemies to do damage with his 2nd and 3rd ability
Same as Aftershock, Amumu can immobilize with his 1st and ultimate ability. If you can hit a 5 man ultimate the whole team will take more damage from weakness.
Amumu struggles early game with health and mana when clearing the jungle. Regeneration allows him to regen either health or mana depending on which stat is lower.
The go-to rune for junglers in Wild Rift! Allows Amumu to deal 10% bonus true damage to epic monsters and turrets! On top of that, he can earn an extra 100 gold and 500XP when you takedown objectives!
Jungle Path

With Amumu he doesn't have the best 1 vs 1 potential vs other junglers. This means that most of the time you want to go for a full clear in the jungle which means you work your way through your jungle and kill every camp. When you finish killing every camp in your jungle you will get Level 5 and can easily gank any lane. Amumu benefits a lot from starting at Blue Sentinel! This helps a lot with Amumu and his mana problems early.

This is what the jungle path would look like:
Blue Sentinel 
Gromp
Wolves
Raptors
Red Brambleback
Krugs
Below is a beginner's guide I did for jungle in Wild Rift. It goes in-depth about every jungle camp. Epic monsters and more!:
Late Game

Amumu is a great team fight champion in the late game. Amumu wants to stay with his team at all times as he has great abilities to help the team. As a jungler, your main objective is to keep track of when Dragon's, Rift Herald, and Baron spawn. Taking these epic monsters will give you and your team an advantage in the game. When a team fight happens Amumu is great at being in the front line protecting his team. Amumu is a tank that has a lot of crowd control and as mentioned before a great ability called Curse Of The Sad Mummy (Ultimate) that can change a team fight.
Conclusion

Overall Amumu is a great starter champion if you want to play jungle! He has some easy abilities that you can learn straight away and you can have a big impact on the game with his abilities and playstyle.
Thank you for reading this guide! Feel free to follow me and ask any questions on:
Good luck on the rift summoners!