Annie
Build Guide for Wild Rift
Build Annie with confidence with the help of WildRiftFire's build guides. Whether you are completely new to Annie or looking to refine your playstyle, we will help you take your Wild Rift game to the next level. Learn Annie's abilities in detail, the best items to build, which skills to level first, and more.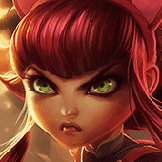 How to play Annie

Annie is a mid-lane mage. With Annie, the most important thing you need to keep track of is how many stacks you have on your Passive (Pyromania). This is shown just underneath your mana bar. When Annie gets her ultimate (Tibbers) it's best to wait until you have 4 stacks on your passive so you can use the area of effect to stun multiple enemies. This is amazing during team fights or trying to pick off an enemy walking by themselves.
Annie Build Breakdown

Ionian Boots of Lucidity - Protobelt
Annie builds ability power items to help with her damage from her abilities. It's important to build Rod Of Ages as Annie's first item. Rod Of Ages stacks over time giving you more health, mana, and ability power every 30 seconds up to 10 times. This means that if you build this item later on it won't have the same effect and you will need to wait for it to stack. Infinity Orb is another great item for Annie. It gives her movement speed to allow you to get closer to the enemies to land your abilities, and it also helps by dealing more damage to enemies below 35% health.
For runes we have the following:
Annie has 3 spells and auto attacks that can hit the enemies really easy when you stun the enemy, this procs the extra damage which can help at any stage of the game.
A good way to get some extra ability power that can help at all stages of the game especially the early laning phase where Annie can struggle and needs to farm from range.
With Annie, you will be spamming spells a lot to make sure you have 4 stacks to be able to stun the enemies. Regeneration helps you regen mana over time if you are low.
A great rune for if Annie gets low in the landing phase and needs that extra bit of healing, mana, and she can get some free money
Early Game

Before level 5 Annie can struggle a bit during the laning phase. The best thing for her is to stay back and use your Disintegrate (1st Ability) to last hit and farm the minions. If Annie can kill the minions with her 1st ability she will be refunded the mana and the cooldown will be halved so it's really easy to play safe. Once Annie hits level 5 you can look to stack her Pyromania (Passive) then use her ultimate to try and get a solo kill. With Annie, you can also roam after level 5 to top or bottom lane with your passive and Tibber's ready to try to get a few kills.
Late Game

In the late game, once you have a few items and levels, Annie has the potential to one-shot any squishy (low health) target's on the enemy team. The best way to go about this is trying to hide in a bush (with your passive ready), then once an enemy comes towards you, you can surprise them with Annie's Tibber's and combo that with her other abilities and ignite. In team fights the same thing applies, your job is to try and get to the enemy backline and try to get as much damage down as you can on the enemy carries.
Conclusion

Overall Annie is a great starter champion for anyone that has just started playing Wild Rift. Her abilities are not that hard to understand. Just make sure you keep your eye on your passive. Annie can play super safe early on and can be a big difference in team fights with her huge ultimate.
Thank you for reading this guide! Feel free to follow me and ask any questions on:
Good luck on the rift summoners!