Ezreal
Build Guide for Wild Rift
Build Ezreal with confidence with the help of WildRiftFire's build guides. Whether you are completely new to Ezreal or looking to refine your playstyle, we will help you take your Wild Rift game to the next level. Learn Ezreal's abilities in detail, the best items to build, which skills to level first, and more.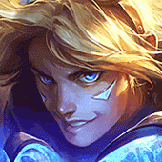 Ezreal
The Prodigal Explorer
How to play Ezreal

Ezreal is a Dragon Lane carry that uses a mix of attack damage and ability power to kill the enemies. Ezreal's main source of damage comes from his abilities. In the early game, Ezreal struggles to keep up in damage compared to the other AD carries. However, Ezreal's Mystic Shot (1st Ability) is a great way to stay back and keep safe whilst also last hitting minions so you can get the items you need to carry the game. Once Ezreal gets to mid and late game and have his core items, he is able to stay back and use his abilities to take down the enemies from range.
Ezreal Build Breakdown

Gluttonous Greaves - Stasis
Ezreal has a very unique build path compared to other traditional dragon lane champions. Firstly with Ezreal you build Manamune, this is because you are using your abilities all the time with Ezreal and they have a very low cooldown, so not only do you need the mana from Manamune but you can also stack the passive very fast and upgrade this item to Muramana, this allows Ezreal to do a lot more damage when it comes to mid and late game. Trinity Force is another core item, mainly because of the spell blade passive. This works with your Mystic Shot (1st Ability) really well. If you hit your Mystic Shot it counts as landing an auto-attack so not only do you get the damage from the ability but you also get extra damage from the Trinity Force passive.
Onto the runes, we have:
With Ezreal you will be spamming your abilities and auto-attacking a lot vs the enemy champions so you can get the stacks needed to get extra damage.
A very high-risk high reward rune. Ezreal is a very safe champion to play and you can stay back and deal a lot of damage. This rune gives you 10% extra damage to champions but if you die twice... You lose it all.
This also helps Ezreal a lot in the early game as you will be spamming your spells a lot so you don't get too close to the enemies and take damage.
This works well with the combo of Muramana. The more mana you have the more damage you will do.
Early game

Ezreal is not the best champion in the early game. You can use his Mystic Shot (1st Ability) at range to poke down the enemies and last hit minions. This will help as the enemy bot lane won't push up too much to try and kill you. You can also combo Essence Flux (2nd ability) with either your auto-attack, Mystic Shot or Arcane Shift (3rd Ability) to do more damage to the enemy champions. Now even though Ezreal does have a weak early game you can use Arcane Shift to dash away from any danger so you can play as safe as possible.

Late Game

Now, this is where the fun begins! Once Ezreal gets his 3 core items (Manamune upgraded, Trinity Force, and Blade of the Ruined King) you can just sit back, relax and poke out the enemy team because they will not be able to get close to you. It's always best as an AD Carry to stay grouped with your team. You want to stay as far back from the enemies as possible and allow your front line to go in front of you to tank all the damage. Most of the time you are the main damage output, so if you are caught by yourself and die then your team is in trouble, so make sure you stay safe at all times.
Conclusion

Ezreal is a very fun and safe champion to play. It might take a while for you to get used to him as he primarily uses his abilities for damage. You will need to practice landing your skill shots and you will have a lot of fun jumping around the map killing everyone.
Thank you for reading this guide! Feel free to follow me and ask any questions on:
Good luck on the rift summoners!