Gragas
Build Guide for Wild Rift
Build Gragas with confidence with the help of WildRiftFire's build guides. Whether you are completely new to Gragas or looking to refine your playstyle, we will help you take your Wild Rift game to the next level. Learn Gragas's abilities in detail, the best items to build, which skills to level first, and more.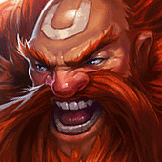 How to play Gragas

Gragas is a magic damage-based champion with mobility, crowd control, damage, self-healing, and tankiness. This build is for the top lane however Gragas can be also played in the mid lane and jungle. Gragas is ok in the early game but as the game gets later into the mid/late game you can pull off some nice combos to carry the team fights. One of the combos is by using Gragas's Body Slam (3rd Ability), once you hit his body slam you can use his Barrel Roll (1st Ability) and Explosive Cask (Ultimate) to deal a lot of damage.
Gragas Build Breakdown

Ionian Boots of Lucidity - Stasis
Gragas builds ability power to help with his damage from his abilities. Liandry's Torment is a great 1st item for Gragas. It gives him some tanky stats with the extra health and most of the time Gragas will be in the face of the enemies using ability and auto-attacking the enemies so you will be in combat a lot and be able to stack Liandry's passive to deal more damage. Continuing with the fact that you will be in the face of the enemies a lot that is also why Lich Bane is a great item as after you cast a spell you can auto-attack to deal extra damage.
With runes, we have:

There are many combos with Gragas to allow you to proc the Electrocute damage which will help you especially in the early game trades.
Good way to get some extra ability power that can help at all stages of the game.
Since Gragas regen's a lot of health from Happy Hour (Passive) this will help regen mana when it goes low to help you keep using abilities.
A great rune for if Gragas gets low in the landing phase and need that extra bit of healing or mana and get some free money.
Early Game

Gragas does quite well in the laning phase. You can use his Barrel Roll (1st Ability) to poke down the enemy and at the same time, it will also heal Gragas because of his Passive Happy Hour. Once you hit level 3 you can look for a solo kill on the enemy. First, use your Drunken Rage (2nd Ability) to enhance your next auto attack then use Gragas's Body Slam (3rd Ability) to jump into the enemy and you can deal a lot of early game damage.
Late Game

Gragas scales quite well into the late game in terms of both being tanky and dealing a lot of damage with his abilities. With Gragas, you always want to stay grouped with your team. Gragas has a lot of crowd control can be a front line tank that can help your team. When you are grouped with your team and about to have a team fight the best thing you want to do is get to their backline where you can kill the enemies carries. 
Conclusion

Overall Gragas can do a lot in the early game and punish the enemy champions if they step out of place. You can play very safe with him because of his passive and he has a big presence in team fights. 
Thank you for reading this guide! Feel free to follow me and ask any questions on:
Good luck on the rift summoners!